EdTech industry is something that appeared pretty much out of nowhere and rapidly took over both software development and educational markets. Even though the time when E-Learning was needed the most has finally passed, some of the educational technologies have proven themselves to be just as efficient (or sometimes even more efficient) than the classic approaches to education.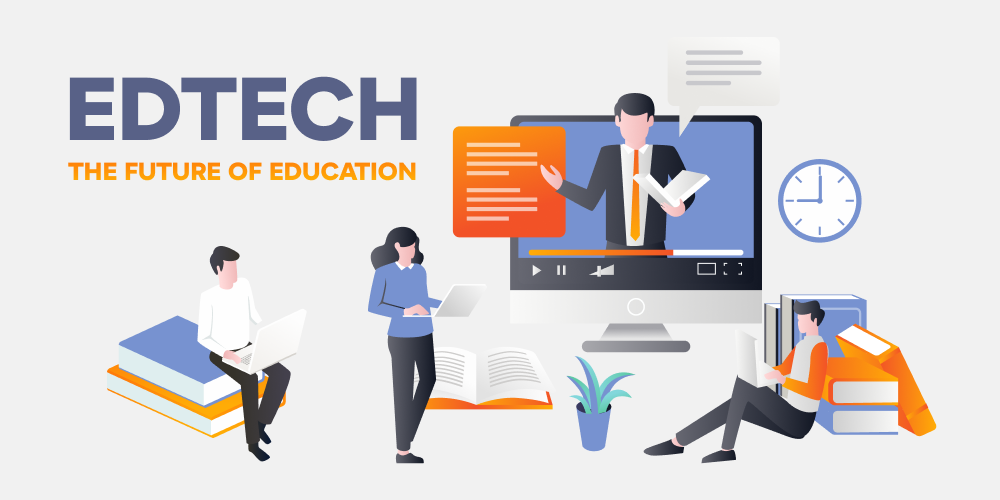 The field of educational technology (commonly known as EdTech) continues its high rate of development and follows the path of innovation. Simply having access to the internet makes a world of information and knowledge available to everyone. Thanks to EdTech business solutions, you may now have access to world-class lectures at an affordable price in just a few clicks as they are widely used in learning practices globally. EdTech is constantly changing the online educational landscape all over the world. The upcoming years won't be an exception for the appearance of education technology trends. But first, let's find out what is EdTech.
What Is EdTech?
Educational technology is a compilation of software and hardware tools and technological cases designed specifically to improve both teaching and learning practices. Successful application of artificial intelligence in education makes the learning process extremely engaging, customizable, and efficient for students and teachers. Educational technology development and its further implementation in various niches and learning areas allow for the proper creation, management, and use of technological processes. The set of these activities boosts the students' performance and promotes education among them.
Edtech Use Cases
As the world becomes more interconnected, more industries benefit from the use of computers and the internet. Education is one of the areas that can truly make the most from Edtech development. Since technology is already utilized to empower the most regular of fields, it seems logical to apply it to the educational sector as well. So, what are the real examples of Edtech? Let's take a look at them.
Massive Open Online Courses (MOOCs)
Students from all around the world can enroll in and take advantage of these online courses. Additionally, students can utilize a broader selection of courses than they ever had before. It's one way to lower the cost of providing a top-notch education to all students.
Analytics of E-Learning
E-Learning allows to collect and systematize a wealth of information on students' online behavior. That way, users can evaluate the student's progress with greater precision. Because of this, teachers are better able to personalize lessons to the specific needs of each student. It's also a convenient way to let parents know how their child performs. Typically, it's done with Artificial Intelligence and Big Data analysis.
Customized Education
Through the use of machine learning and large quantities of big data, EdTech companies are able to give education that is uniquely suited to each student. Because of this, students with a wide range of abilities can pursue learning at their own pace, which is a huge benefit for the educational process. By doing so, students surely receive the highest quality support following their learning path.
Immersive Learning
Virtual and augmented reality (AR and VR) make it simple to create realistic simulations. Learning through the use of one's eyes, which involves greater use of concentration and senses, is more beneficial than any other method.
What About The Major Edtech Trends In 2023?
Since 2020, the time when many new technologies began to rapidly appear out of nowhere simply because at least something was needed, people made quite a lot of progress in the development and use of EdTech. What started as simple chat rooms for teachers and students to somehow attend the lectures, now escalated into ways of learning that can compete with the classic ones. And it seems that the progress in EdTech isn't going to stop in the nearest future.
Here are some of the EdTech trends that await us in the upcoming year:
Gamification
Put simply, gamification incorporates game elements into educational content, making it more engaging for children.
Adaptive Learning
With the use of EdTech tools, courses can be modified to meet the needs of individual students. Also, this sort of technological advancement creates a supportive and beneficial environment for students with special needs.
AR and VR
The educational potential of augmented and virtual reality is vast. These technological developments can create simulated learning environments in which students can efficiently put their knowledge to the test.
Redesigned Learning Spaces
With the help of EdTech, classrooms may be reimagined as places where students can learn in an atmosphere that is best suited to their personal educational requirements and learning styles.
Education Anywhere
Edtech development provides boundless learning opportunities. Online education has allowed for greater student-teacher interaction through tools like virtual conferences and expanded course offerings for students.
Developing EdTech Software
Following the EdTech trends is just as important as developing new EdTech software. There is always something new appearing in the EdTech market, so one of the most important things when it comes to the development of new EdTech software is to either innovate or create a better alternative, or else you will just make a copy of an existing program.
By following the education technology trends Diatom Enterprises is able to provide the latest technological innovations and custom software for Online Education solutions. So if you want to learn how to create an education app or discuss your existing project, just ask us, and we'll immediately get back to you with a detailed answer!