Managed IT Services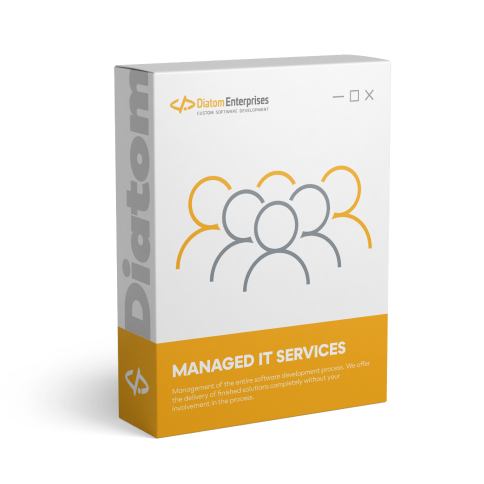 Management of the entire software development process. We offer the delivery of finished software solutions according to your requirements completely without your involvement in the process.
Diatom Enterprises – Leading Provider of Managed IT Services

We offer a full suite of IT management services, designed to keep your technology running smoothly and your business ahead of the competition.
19yrs

Of managed IT services

200+

Successfully delivered projects

100+

Projects realized with our managed services

1000+

Total number of our tech staff
Why Managed IT Services Model?

Managed IT services model is a type of business relationship that allows clients to minimize their IT workload and expenses by entrusting the main responsibilities to other IT companies.

Why Our Managed IT Services?

Our team of experts is dedicated to staying up-to-date with the latest IT trends and practices to ensure that we can provide the highest level of service and expertise to our clients.
What are Managed IT Services?
Managed IT service is quite a generic term, as it involves a wide variety of different IT services that can be outsourced to offshore IT companies. Over the past decade, managed IT services have become a common practice for many businesses of various sizes as managed IT services provide cost savings, increased productivity, improved security, access to expertise, and scalability, thus helping clients stay competitive in an ever-changing technology landscape.
What are the Common Managed IT Services?
Software Development

The most common IT managed service that simply implies providing other businesses with custom software solutions to increase their efficiency and maximize their performance.

Network and Systems Management

Managing, monitoring, and maintaining a company's computer networks and systems, reducing downtime and increasing productivity.

Cloud Computing

Helping businesses adopt and integrate cloud computing technologies, allowing for more flexible and efficient data storage and management.

Technical Support

Technology is a critical aspect of running a business and having a reliable IT partner can help resolve technical issues quickly and efficiently.

Cybersecurity

Protecting a business's sensitive information and assets by providing robust security measures, such as firewalls, antivirus software, and intrusion detection systems.

Data Backup and Recovery

IT services can provide data backup and recovery solutions, ensuring that a business's critical data is protected and can be quickly recovered in the event of a disaster.
The full list of managed IT services is even longer, but as a top IT managed services provider, we offer remote managed IT services that allow us to quickly and efficiently address any IT issues, without disrupting your workflow. Our fully managed IT services are designed to take the burden of IT management off your plate, giving you peace of mind and freeing up valuable time and resources.
Managed IT Services by Diatom Enterprises

Our managed IT services model offers to lead the project from the beginning or to join the process at any other phase of the project.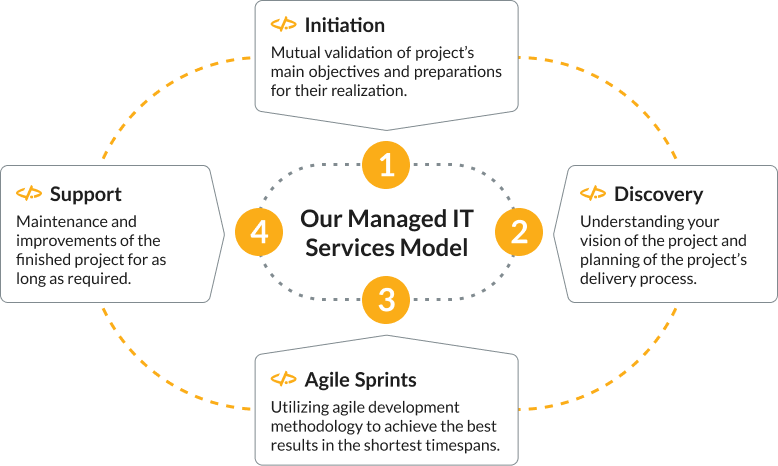 Top Managed IT Services in Europe
At Diatom Enterprises one of the leading IT managed service companies in Europe, we differentiate ourselves from other IT managed service companies by offering a comprehensive and tailored approach to IT management. Our managed IT services are customized to meet the unique needs and requirements of each of our clients, ensuring that they receive the best possible solutions for their business.
If you're looking for a reliable and experienced managed IT service provider, look no further than Diatom Enterprises. Contact us today to learn more about our IT management services and how we can help take your business to the next level.
Get in Touch With Us!
Talk to us and get your project moving! We'll analyse your requirements and get back to you within one day to plan our next steps.