Hope you have a great summer! We recently held our corporate summer event at one of the biggest waterparks in Europe, and it was a day and night to remember, flavored with Uzbek Plov. Here's a quick snapshot of the fantastic time we had.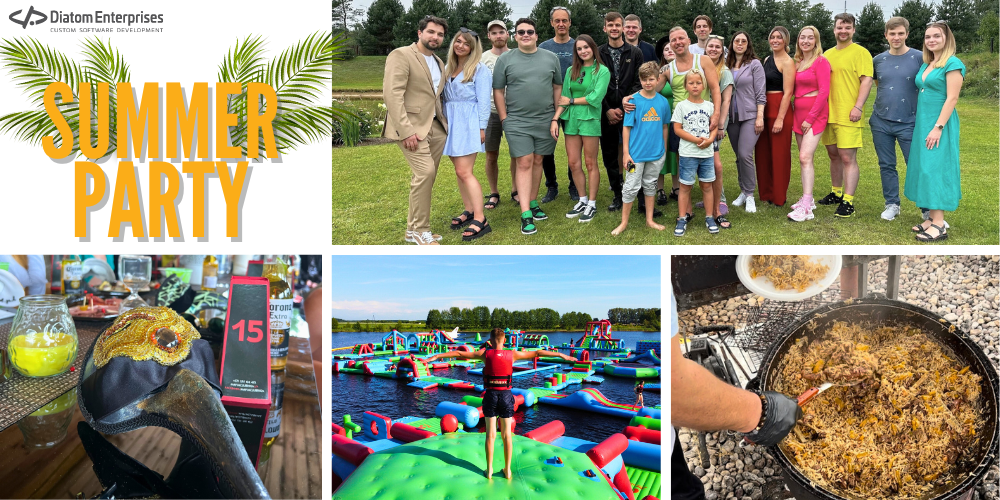 Waterpark Excitement:
Picture a day at one of Europe's largest waterparks, with the water obstacle course, slides, and lots of fun. We soaked up the sun, strengthened our connections, and made lasting memories.
Evening Highlights:
As the day turned into night, we enjoyed a mouthwatering Uzbek plov feast, expertly prepared by our invited professional chefs. It was a culinary delight and a real culinary trip to Asia.
Games and Bonding:
The evening continued with an engaging mafia game, fostering teamwork and camaraderie. Laughter and friendly competition ruled the night.
Nature's Beauty:
Set amidst nature's beauty, we shared stories and built connections around a campfire. It was a night of unity, deepening our team spirit.
"Our summer event showcased the essence of our company culture – adventure and togetherness."
Gleb Barkov, CEO, Diatom Enterprises
To our new colleagues and potential employees, we hope this experience gave you a taste of our team's warmth and unity.
We always have open positions, follow the link to join us.
Welcome to the team!