We simply couldn't miss the return of one of the most technological IT exhibitions in the Baltic States to socialize with like-minded people and to interest as many potential customers as possible in the latest IT technologies (even if it meant working overtime after the event).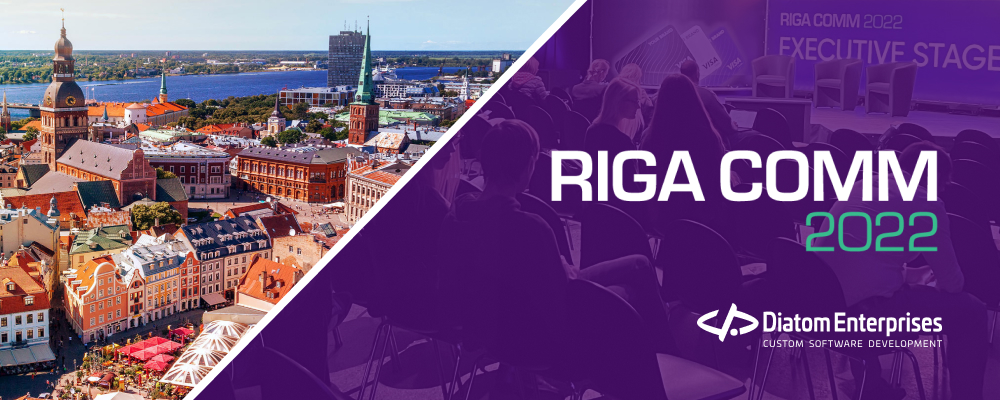 RIGA COMM is an annual IT exhibition in Latvia which encourages the modernization of companies and organizations to make them more efficient. The event itself gathers all sorts of specialists, entrepreneurs and executives from manufacturing and service fields and allows them to share their knowledge with everyone interested. Our company has been quite a frequent visitor of the RIGA COMM expositions in the past decade and it felt great to be back this year.
Some of our previous exhibitions at RIGA COMM include the promotion of Xamarin, a rather rare set of development tools, after which we shared our experience with other exhibitors. A couple of years after that, we presented our executive intern Robot Pepper at RIGA COMM 2018 and displayed our achievements in AI technologies to the visitors. Unfortunately, after that our beloved exhibition was delayed for a couple of years because of the pandemic. This year though it was finally brought back and were excited to find out what future technologies might await us and share some research that we've done ourselves.
Overall, the exhibition was a great experience. One of the most praiseful moments was the speech on HR Tech in which we found out about the best ways of improving our office space, which we might consider in the future. The B2B Development Workshop was a valuable opportunity for us to learn about the innovations in the world of technology. The amount of knowledge the FinTech conference gave us on how to potentially provide better and faster financial services is immeasurable and our custom software development team will make sure to put the acquired knowledge to good use in our upcoming projects. It was fascinating to partake in conferences on Cybersecurity and Machine Learning to discover their improvement trends and directions in the upcoming years.
It is always a pleasure for us to be a part of such events. Not only do they give us a chance to compete for the status of the best IT company in Latvia, but they also allow us to establish new connections with clients or with other IT companies. Expect to see more of Diatom Enterprises at RIGA COMM's future events and other IT exhibitions in Europe!
In case you haven't met our team at RIGA COMM 2022, you can always find out about our services and technologies on our website. You may leave a request and we will gladly help you with your projects!