Baltic Outlook is a magazine for travellers which consists of inspiring places to visit, spectacular locations and relevant events at airBaltic. The magazine also provides readers with practical tips and novelties in the field of design, cooking, technology and fashion. The article about Diatom Enterprises was published in Baltic Outlook September and October 2022 issues and described the story of the company, as well as the accomplishments the company is known for.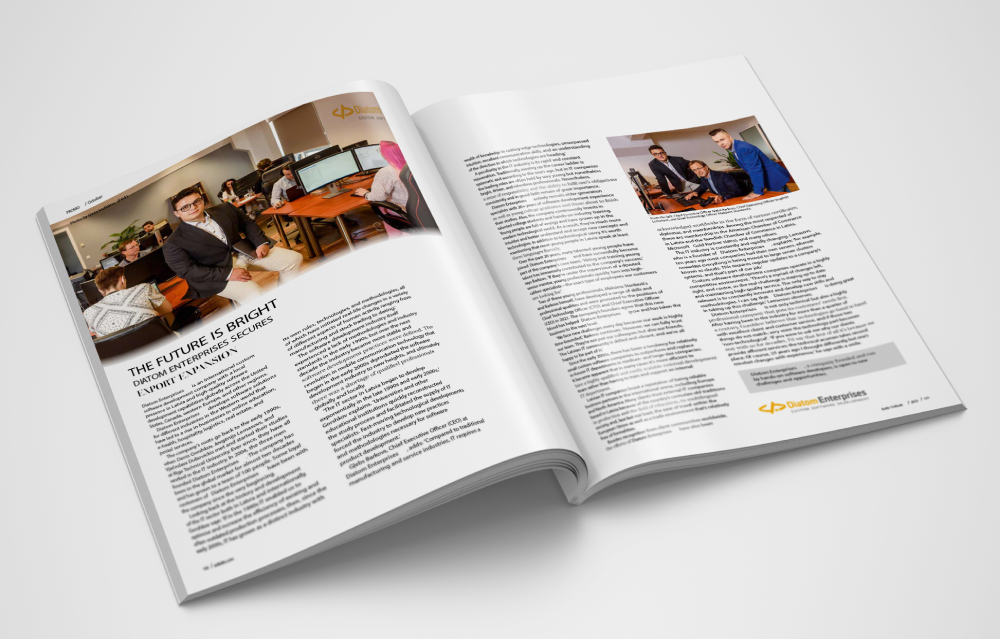 Diatom Enterprises is an international custom software development company with a local presence in Latvia and high-quality software development capabilities globally. The company's roots go back to the early 1990s, when Denis Gorshkov, Jevgenijs Lemasovs, and Vjaceslavs Dubovickis met and started their studies at Riga Technical University. After their studies, they worked in the IT industry for some time and later in 2004 formed Diatom Enterprises, a company which now consists of 100 people and has earned multiple awards and loyal customers.
Diatom Enterprises was established during the early 2000s revolution in mobile communication technology, which meant that the company had to adapt to the rapid changes in software development practices and methodologies. One of the solutions the company found for it is to hire software developers from different age groups. The company is still actively hiring developers with more than 20 years of experience as well as young college graduates. The combination of both allows the devoted senior mentors to quickly turn young developers into high-calibre specialists since younger people that grew up in the modern technological world are intuitive and have a better understanding of technological concepts. The fact that the company is located in Latvia, where most young people are fluent in three languages greatly adds to this approach.
Most clients nowadays tend to approach smaller companies for their software development needs. This is due to the fact that during the past couple of decades, smaller custom software development companies have proven to be just as reliable as bigger in-house IT teams while also often outperforming them. Especially why people often go for Latvian software development companies are the benefits for the citizens the country provides. The location of Diatom Enterprises makes it a trustworthy and promising business partner for other European and overseas customers because of the country's centuries-old traditions in production and education, multilingual society and, last but not least, the ease of travel within the European Union.
Diatom Enterprises operates in a highly competitive environment. In order to stay relevant, IT companies need to constantly adapt new software development methodologies and keep up with the progress. Not only that, but companies need to provide excellent customer service in order to attract new customers and keep the older ones. The fact that Diatom Enterprises operates for almost 20 years already says something…
Want to be sure that your project will be done quickly and efficiently? Make sure to contact us via the link below!
The article is published by the Baltic Outlook magazine owned by airBaltic airlines
Source: Baltic Oulook article