What are the reasons to hire developers in Europe? Why look for software developers in Northern Europe and especially the Baltic States? What makes Latvian developers one of the most beneficial and cost-saving solutions for your business? We've prepared the most fascinating reasons supported by legitimate evidence for you to outsource software development to Latvia.
Jump in and find out how to lower production costs by implementing custom software solutions. Let's find the answers to the most frequently asked questions and evaluate the best country to hire developers together!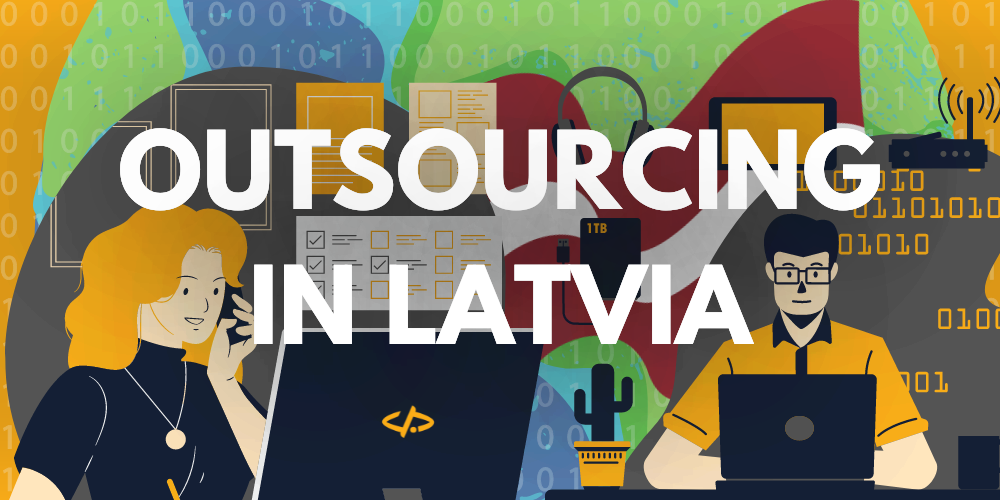 Major Aspects that Impact European Developer's Rate
What is the price to hire developers in Europe? Well, the pricing may vary significantly according to the particular region. The factors that impact the price setting typically are business climate, the IT sector development stage, cost of living, and the following aspects like:
Location

The stronger the economy, the higher the European developer's rates are. The cost of living and high living standards directly impact the pricing of software development outsourcing.

Background

If you're in search of hiring software developers, you should bear in mind that pricing correlates directly with the range of abilities you require. If you're looking for software development skills in demand, you'd better get prepared to open up your pocket.

Project Length

The common thought is that the lengthier the project, the more outsourcing software development costs are affordable. Typically, long projects may last from a few months to several years. So, as a common belief, shorter projects suggest higher rates.

So, to choose the cost-saving country to outsource software development, it's appropriate to keep in mind the mentioned above aspects and formulate precise project requirements right from the get-go. It will help you to find the most affordable custom software solution.
Hiring Developers in Northern Europe. Efficient Way To Reduce Outsourcing Software Development Costs
If you're looking for a cost-saving solution to optimize outsourcing software development costs, Northern Europe is a good option to have a detailed look at. Firstly, let's have a small geographical reminder to better understand the pricing formation details and process of hiring developers in Northern Europe.
This European corner consists of two regions – Scandinavia and the Baltic States. Scandinavian countries are:
Norway
Finland
Sweden
Denmark
While Baltic States countries are:
Despite the nearby geographical location, outsourcing software development costs significantly vary in both regions due to multiple reasons. One of them is high living standards that determine the "costly" price setting to hire software developers.
Most of the Scandinavian digital product development companies operate in a range of 50-100 USD per hour of software development. Let's agree, it has nothing to do with affordability.
On the other hand, Baltic States stand as a counterweight to expensive Scandinavian countries, offering the same premium quality level of outsource software development services at an affordable rate. The average Latvian developer's rate is between $25–$49 per hour which is a great alternative to overpriced top IT outsourcing countries.
If you're looking for a business solution to reduce and optimize the software development cost and to create and boost a tech team in this region, outsourcing software development to Baltic States, like Lithuania, Latvia or Estonia would be a great option to consider.
What Are The Benefits to Hire Developers In Latvia?
IT Ecosystem
Latvia is world-known for its stable and top-notch Internet connection. Being placed as one of the Top-10 countries with the most secure and fastest Internet speed, Latvia suggests the so-called Baltic electronic highway – multi-gigabit fiber connectivity. Moreover, Latvia encourages all kinds of IT services by creating a beneficial environment for e-businesses on a global scale.
Educational Basis
The government of Latvia has made significant investments over the past sixty years in the country's technology and computer science industries. Almost all of their major universities, including the University of Latvia, Riga Technical University, and the Latvia University of Life Sciences and Technologies, offer programs in Information Technology and Computer Sciences; as a direct consequence of this, the IT industry in Latvia is thriving at the moment.
As a result of the significant demand for software developers and the several information technology colleges in Latvia, which produce a large number of graduates each year, you can be certain that software development practices are always on the cutting edge.
Fluency In the English Language
If you're looking for a reliable business partner that is easy to communicate with, Latvia is definitely one of the best countries to hire developers. And one of the main factors that support this statement, is the language factor.
Due to the fact that the majority of citizens in Latvia are able to communicate in three or more languages, and practically all of them have been able to speak English fluently since they were in high school, Latvia is an excellent and trustworthy top IT outsourcing country and commercial partner for your business. Project managers and software development teams can easily and efficiently communicate with customers without any delays and miscommunications.
Time Zone Difference
The ability to work remotely has been applied by Latvian businesses and the country's IT ecosystem virtually in every industry. A wide range of Latvian companies and software development companies in particular employ remote workers and quite often from different countries.
This guarantees that the project team from Latvia will always be able to communicate smoothly, efficiently and without any pitfalls despite the time zone difference. It makes it possible to have an almost uninterrupted workflow and ensures that someone will always be available to provide you with an update on the current project state.
Diatom Enterprises is a software development company established in Canada and is now headquartered in Latvia, creating custom software solutions for worldwide customers.
During 18 years of successful outsourcing software development experience with multiple businesses and software production, Diatom has gained multiple awards and the trust of customers globally. The latest awards are the status of one of the leading Latvian IT companies status according to Clutch and reviews of satisfied customers.
Throughout our company's journey in software development, we've gained many loyal customers who have entrusted us with numerous long-term projects, and we made sure to provide them with the best services available. Most of these projects are still constantly updated and maintained by us to this day and serve as a display of our capabilities. Please feel free to contact us to discuss how we can help you achieve your software development goals.